Current Restoration Projects: 
Waldo has restored the aircraft used in his flight operations for years.  Since COVID, Waldo offers this same service for vintage enthusiasts who wish to keep these gorgeous planes airworthy.  Whether one is a collector or a barnstormer, the process is a dynamic HANDS ON opportunity to build and help restore their very own piece of aviation history!
Click on All Images for Links to More Photos: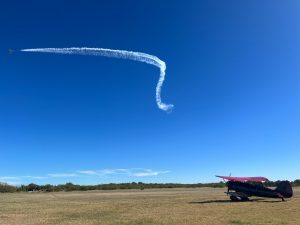 1942 BOEING STEARMAN NC33NA-AWARD WINNER!
EAA-Outstanding Open Cockpit Biplane WWII Era 2021/Grand Champion Nebraska Chapter AAA 2021
Most Recent Restoration Galesburg 2021/SUN N FUN Outstanding Antique Custom 2022
Roger Brown came to Waldo in August of 2020, and by June 2021, at his request, the plane came out of Waldo's shop looking exactly the same!